Fixing Old Pictures – تصليح الصور التالفه والقديمه
One of the rare solutions you may find over the internet, I offer my clients fixing the old and damaged pictures and even coloring them if required.
Below is an example of what I did for one of my clients, he requested to fix his childhood photo which he adores the most and has wonderful memories with this particular one.
Fixing damaged old pictures is not an easy task as you think, you need to be so creative, having a deep understanding of the editing techniques along with an artistic mentality.
What I did for the below sample was:
Fixing the damages.

Coloring the whole photo.
تصليح الصور التالفة وتلوينها
هو من الحلول التي قد لاتجد مثيلها في الانترنت، انا اقدم الى عملائي تصليح صورهم القديمه والتالفه مع تلوينها لو طلب مني.
في الاسفل يمكنك ان تشاهد احد النماذج التي عملتها الى احد عملائي التي تخصه عندما كان طفلا وتعتبر هذه الصورة قيمه عنده لما تذكره بذكريات جميله تحديدا مع هذه الصورة.
تصليح الصور التالفه هو ليس بالعمل البسيط حيث يتطلب منك ان تمتلك الابداع، مع خبرة عاليه في تقنيات تعديل الصور، وبالتأكيد مع العقلية الفنية التي لا يملكها اي شخص.
قمت بعمل التالي الى هذه الصورة:
تصليح الاضرار فيها

تلوينها.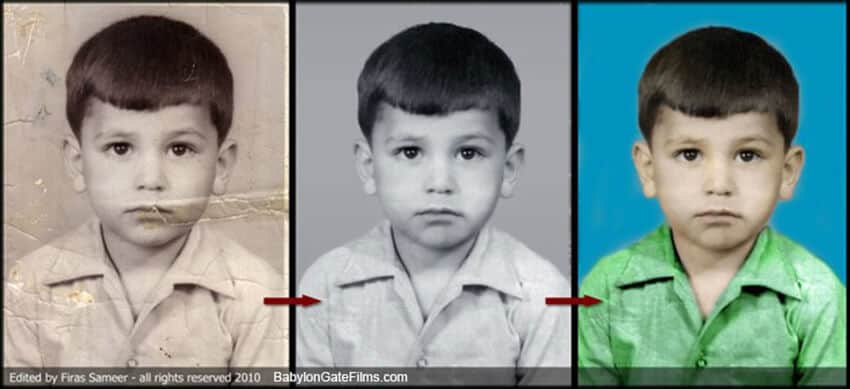 Share this post if you like it ..