Uncle Naji in UAE, the new featured emirate movie soon in the UAE and Gulf cinemas were produced and directed by Ahmed Zain. The story is mainly about "Naji" the Yemeni young guy who lives and work in the UAE with his Yemeni partner decides with his Emirate friends to go on holiday to a mountainous region in Ras Al Khaima where they face many funny and strange comedy situations, but unexpected moment happened turned their funny journey to horror, fear and mystery.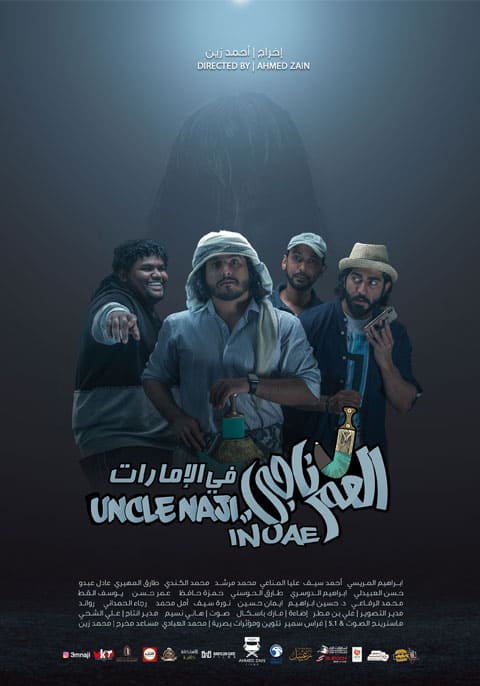 The movie starring Ibrahim Almeirasi, Ahmed Saif, Mohamed Alkendi, Alia Almannai, Tariq Almuhairi. The director has managed to have several social media stars to act into his movie Uncle Naji in UAE through the journey of the movie story.
Watch the official trailer of the Uncle Naji in UAE movie
Babylon Gate Films (Firas Sameer) has already participated into this movie project by supporting only:
Sound Mastering and corrections.
5.1 Surround Sound production.
Adding the English Subtitling to the whole movie and its trailer.
DCP Digital Cinema Package Conversion to the cinemas for both the movie and its trailer.
Hence the video and audio editing was solely done by the DOP Ali Bin Mattar.
انتهى المخرج والمنتج الإماراتي أحمد زين من تصوير فيلمه الجديد «عم ناجي في الإمارات» والذي قريبا سيعرض قريبا في جميع دور السينما الاماراتية والخليجية،  يمزج بين الرعب والكوميديا في آن واحد كأول تجربة إماراتية تجمع مشاهير مواقع التواصل في فيسبوك وانستغرام ويوتيوب في عمل سينمائي جماهيري واحد.
ويعزز الفيلم الكثير من المفاهيم والقيم النبيلة خصوصا ان الفيلم قد اصدر في عام التسامح في الامارات، مثل الصداقة والوفاء والتعايش بألفة ومحبة مع الآخرين، عبر قصة كوميدية تتمحور حول شخصية «عم ناجي» اليمني وأصدقائه الإماراتيين، ومن المتوقع أن يحدث فيلم العم ناجي في الامارات نقلة نوعية في السينمائية الجماهيرية الإماراتية، خصوصا أنه يجمع بين نخبة من الممثلين المحترفين ورواد السوشيال ميديا الموهوبين.
الفيلم من تأليف وسيناريو وحوار وإخراج أحمد زين، وإنتاج مشترك بين أحمد زين ومحمد زين الهاشمي، ويشارك في بطولته كل من إبراهيم المريسي، وأحمد سيف، ومحمد الكندي، ومحمد مرشد، ومروض الخيول طارق المهيري، والإعلامية علياء المناعي، وإيمان حسين، وأمل محمد.
شاركت افلام بوابة بابل (فراس سمير) بانتاج هذا الفيلم من ناحية المشاركة بعمل:
1.  ماسترنج وتصليحات الصوت.
2. تحويل الصوت الى صيغة 5.1
3. اضافة الترجمه الانكليزية للفيلم.
4. تحويل الفيلم النهائي الى صيغة دي سي بي DCP للسينما.
يذكر ان مونتاج الفيلم الكامل للفيديو والصوت بواسطة مدير التصوير علي بن مطر.