Chromosome is the new Emirati featured movie written and directed by Ali Jamal, the movie was produced in Dubai and willingly it will be released very soon to the UAE cinemas, Chromosome considered to be the first Emirati movie that uses drama and action scenes, unlike the previous Emirati movies that were showing in the cinemas for a while now.
The film featuring Ali Jamal as the main character along with other well known Emirati actors such as (Abdullah Saed Bin Haider, Noora Al-Abed) along with other casts like (Saif Manzoor, Jawaher Mohamed, Belal Merza, Sayed Safdar Reza, Fouad Al Qahtani, Mohamed Abdul Razzaq, Adil Ibrahim)
Chromosome – Official Trailer 2020
The dop was Shahram Kareem and the production manager was Ahmed Hussien.
The full post-production of the movie was performed by Babylon Gate Films LLC (Firas Sameer) including:
Video editing.
Sound editing (fixing and mixing).
Visual effects VFX.
Sound effects SFX.
Color Correction & Color Grading.
Subtitling.
5.1 surround sound.
DCP conversion.
Trailer.
Poster design.
Chromosome 2020 official poster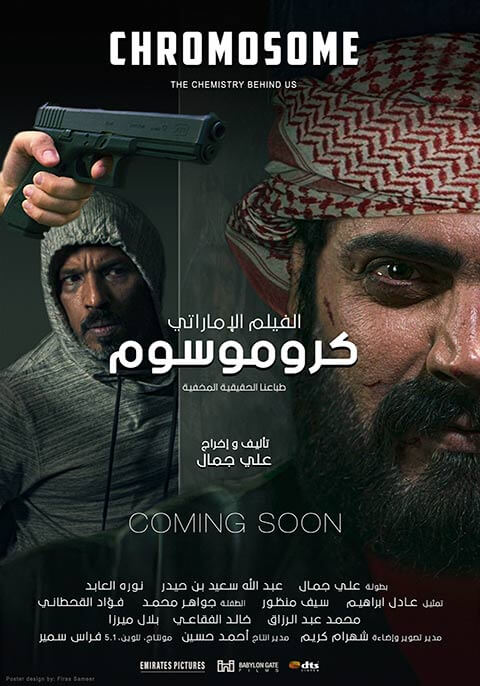 انتهى الممثل والمخرج الاماراتي علي جمال من انتاج فيلمه الجديد بعنوان (كروموسوم) وهو من تأليفه ايضا حيث تم انتاج وتصوير الفيلم في امارة دبي في الامارات العربية المتحدة وهو من انتاج شركة افلام الامارات، حيث يعتبر فيلم (chromosome) نوعا جديدا من الافلام التي انتجت في دولة الامارات للسينما في الخليج والوطن العربي على خلاف سابقاته من النتاجات السينمائية الاماراتية حيث يتميز بقصة درامية تتخللها مشاهد العنف والاكشن التي عهدناها في الافلام العالمية.
ابطال فيلم كروموسوم هم (علي جمال، عبد الله سعيد بن حيدر، نورة العابد) بالاضافة الى بقية الممثلين في الفيلم من امثال (سيف منظور، جواهر محمد، فؤاد القحطاني، محمد عبد الرزاق، خالد الفقاعي، بلال ميرزا وغيرهم).
كان مسؤولا عن التصوير شهرام كريم ومدير الانتاج هو احمد حسين.
عمليات المونتاج الكاملة تمت في Babylon Gate Film LLC (فراس سمير) وتتضمن:
مونتاج الفيديو.
مونتاج الصوت (تصليح ومكساج).
مؤثرات بصرية خاصة.
مؤثرات صوتية.
تصليح الالوان والتلوين.
الترجمه والسبتاتيل.
5.1 صوت ثلاثي الابعاد.
التحويل لصيغة الدي سي بي.
تصميم التريلر.
تصميم البوستر.