The Awards Winner "Masquerade" short film by Babylon Gate Films describes our daily life acting as actors dealing with different people, different societies, and levels with social hypocrisy. Some people state that we are all live in a lie and it's hard to express our true self in front of people or at least in most cases in our relations, our work community either for positive or negative intentions. "Masquerade" short film says it all in only 2 minutes.
[ Masquerade has now been officially selected by Al Ain Film Festival 2019 ]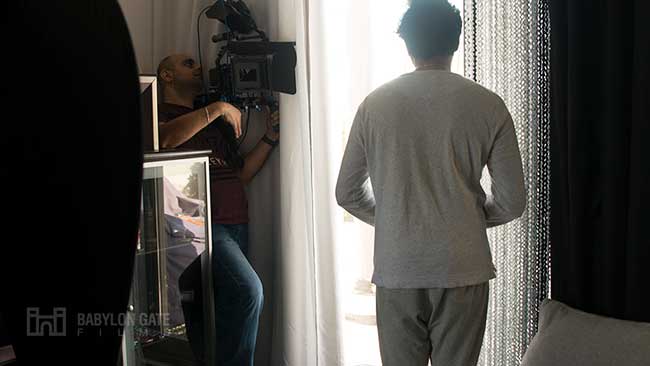 The Masquerade short film production took place in Dubai for one shooting day starring Arjun Raman who had previous experience acting in other short films and TV advertisements, hence the full cast as below:
Starring: ARJUN RAMAN
Script: FIRAS SAMEER
D.O.P: FIRAS SAMEER
Production Manager: KHALID ALJARRAH
Assistant Director: OMAR GHAZWAN
Music: Filmstro pro
Post Production: FIRAS SAMEER
Special Thanks: ATALLAH ALJARRAH
Directed by: FIRAS SAMEER
© 2017 BabylonGateFilms.com
Masquerade short film has recently been officially selected for the I WILL TELL INTERNATIONAL FILM FESTIVAL 2018 for both UK and USA festival versions.
BEST SHORT FILM – Gold Award – VSC 2017
BEST SILENT FILM – Gold Award – VSC 2017
BEST EDITOR – Gold Award – VSC 2017
BEST DIRECTOR – Gold Award – VSC 2017
OUTSTANDING ACHIEVEMENT AWARD – Silent Film Category – CICFF 2017
BEST ACTOR AWARD – Best Actor Category – CICFF 2017
Masquerade NOMINATIONS
GOLDEN ORYX AWARD NOMINEE – Best Short Film – WOIS FF 2018
OUTSTANDING ACHIEVEMENT AWARD NOMINATION – Short Film Category – CICFF 2017
BEST DIRECTOR AWARD NOMINATION – CICFF 2017
BEST CINEMATOGRAPHY AWARD NOMINATION – CICFF 2017
BEST EDITING AWARD NOMINATION – CICFF 2017