"Déjà vu" A new music video clip performed by Frank Rubaie the classical guitarist from Canada specialized in flamenco guitar playing, the music piece was recorded and produced by Babylon Gate Films along with all music arrangements.
When we completed the Déjà vu music production in the house we started thinking of making a music video clip for it, so Firas Sameer was thinking of developing an idea related to the music theme and name. When the right time came Firas started to build the storyboard for the music clip and arranging for the perfect dancer and other people who should work with him to achieve the perfect video for the "Déjà vu" music.
The shooting started in three different locations in Dubai including 1 outdoor location and 2 other indoors and was perfectly implemented completely one day.
Prior to the shooting date, we've met professional flamenco dancer and teacher the beautiful model & choreographer Yuliya Baykova who added a value from her experience and designed the final dance with Frank based on Firas' requirements, Hence we had three dancing sessions with her to create the final dance and to be trained with Frank on how both of them should be dancing.
Awards And Official Selections
Another Achievement, my music video "Déjà vu" has Won The "BEST DANCE VIDEO Award" at the Consonance Music Film Festival – Hollywood USA 2018..
https://www.moviescreenpro.com/consonancefest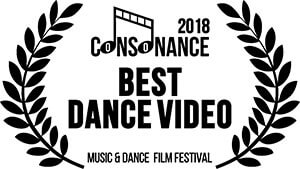 Déjà vu "the music video clip" has now been selected in some International Film Festivals and entering the competitions in the music video section.
Four festivals so far have selected the Déjà vu music video which is Jersey Shore Film Festival and the CaribbeanLens International Film Festival – Where Hollywood Celebrates the Caribbean!
Official Selection Laurels
The Déjà vu music video clip idea was developed according to the music variation within a period of 3 minutes, thus the creativity that based on the story of the music piece added that value to the clip along with the wonderful implementation of the production.
These elements together made the music video clip an award-winning video or at least it became valuable to be easily selected by International Film Festivals.
Déjà vu Trailer (also watch the full video below)
Déjà vu Music Video Clip Credits
Directed By – Firas Sameer اخراج – فراس سمير
Model & Choreographer – Yuliya Baykova  موديل وتصميم رقص – يوليا بايكوف
Makeup Artist – Alina Bikchurova مكياج – ألينا بكجوروفا
DOP – Firas Sameer مدير تصوير – فراس سمير
Camera Assistant – Joas V. Andrade مساعد كاميرا – جوآس في اندرادي
Photographer – Omar Ghazwan مصور فوتوغرافي – عمر غزوان
Guitar performance and acting – Frank Rubaie
Percussions – Firas Sameer ايقاعات – فراس سمير
Music Production – Firas Sameer توزيع موسيقي – فراس سمير
Location Manager – Ahmed Talib Chker مسؤول مواقع – احمد طالب شقير
Editing Grading & VFX – Firas Sameer مونتاج وتلوين وغرافكس – فراس سمير
Sound Effects – Firas Sameer مؤثرات صوتية – فراس سمير
I will not make it long for you but will leave you with the final music video clip of  Déjà vu by Frank Rubaie and hope you will like it.
Déjà vu – Frank Rubaie رأيته مسبقا – فرانك ربيعي