"I Don't Know" is our new short film which was released in 2019 theatrically, it has been shot in April 2019 and directed by Firas Sameer.
The film is talking about the childhood-raising environment which affects the human being when he is raised either positively or negatively along with other deep details represented in a surreal film style. More to know from the director's statement below.
Festivals & Awards
I Don't Know Official Poster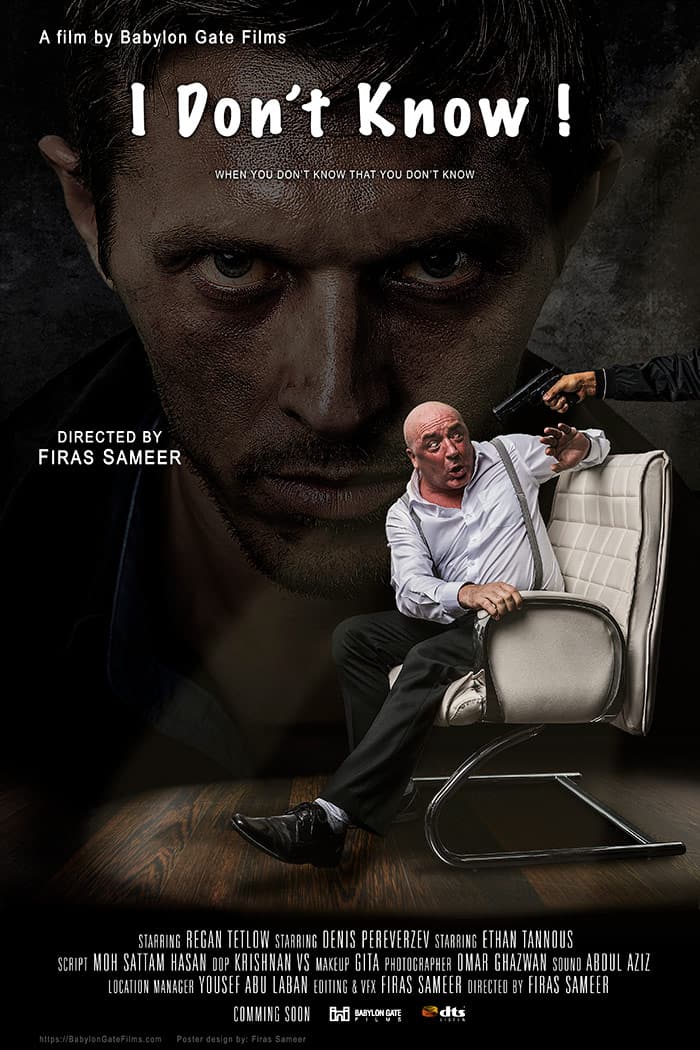 I Don't Know Official Trailer

I Don't Know short film details:
Tagline: When you don't know that you don't know.
Film Genre: Drama, Horror
Release Date: 2019
Starring: Regan Tetlow, Denis Pereverzev and Ethan Tannous.
Script: Moh Sattam Hasan
DOP: Krishnan Vs
Makeup: Gita
Photographer: Omar Ghazwan
Sound: Abdul Aziz
Location Manager: Yousef Abu Laban
Editing & VFX: Firas Sameer
Directed by: Firas Sameer
I Don't Know – Behind the Scenes
Director's Statement
Story and the theme
The story of the (I Don't Know) short film is all about that poor labor who lived all his life in poverty and misery, rebelling and willing to revenge his own past to decide his unknown destiny out of his antagonist – the factory manager of where he is working at.
During the film, we will see how the protagonist (the labor) is accessing an area which he never dreamed to enter that is the factory manager's office, and during his way, he discovers several facts about life and death, destinies, poor and rich… etc. via symbols.
The genre of the film is combined between Drama, Action, Mystery, and Sci-fi through a running time period of 11 minutes, it's all about an adventure type of a revenge mission to be accomplished.
The idea behind the film is to showcase in a surreal kind of way a life perspective from the eye of a person in poverty to the world following the facts of humankind in the history of how we are all driven-by (controlled) and not by choosing our own choices in life.
Director's vision
As a director, I believe it is really crucial and critical at the same time to build a unique way of how a story to be told and seen especially after my several meetings and discussions with the script-writer and the add-ons that I have added, it is important because the subject of the story is extracted from our life throughout our history as humans starting from the big-bang explosion to our date, human history is filled with miserable stories of poor people, their daily lives, their suffering and sadness, I don't want to be so pessimistic but this is part of our lives as humans.
I presented the film by playing with places and times (as past and present), in addition by adding a split to the locations into two sides, one for poverty world and the other for the rich and wealthy, the colors I chose should deliver the impressions relatively for each, several symbols were used in the film to deliver deep discussable messages to the audience which should open several discussions to study the meanings of those symbols. The music I used in the film deliver certain feelings to the audience and help them not only to (see) the film from a perspective of the poor labor, but also to (feel) his perspectives.
I wanted to showcase and represent a person in poverty with all the feelings and sadness in his face along with all of his uncertainty, lack of knowledge and self-confidence , I presented that by shooting several of the film's shots as an extreme close to the actor's face to show his deep hesitation whether daring to enter to the factory's manager office or not; camera movements to the backward delivers his loneliness feelings to the audience, the elusion he had in a climax moment was designed to show the decisive moment of his destiny in the story. Furthermore, adding a simple black and white effects to certain moments shows his connection to a different time.
However, from the rich man's perspective, you could see how extremely he is different versus the poverty-stricken labor from all aspects, changing the direction of the Statue of Liberty figure with blood add hidden meanings of freedom vs servitude.
I tried as a director to raise awareness of how we as humans sometimes don't sympathize with other people, we don't appreciate what we have, and to enlighten ourselves and others to be motivated to help other people in need of help no matter what type or amount of help that we could offer.
Director/
Firas Sameer